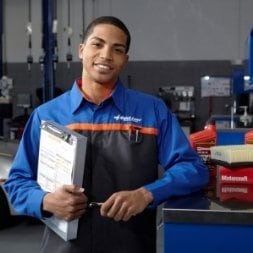 Unfortunately, our cars won't last forever, eventually so many thousands of miles on the road will require some kind of service or maintenance. That said, at Woodhouse Ford of Omaha we believe that when seeking out Ford service, you should seek expert maintenance from a team that you trust, with Quick Lane Service to get you back to work on time.

Woodhouse Quick Lane Service
It can be difficult to refuse blowout sales or discount deals, even when what you're buying may not necessarily be the best; this is true of everything, especially auto maintenance. No matter what you do, your car is going to need service at some point, whether that be a tire rotation or an oil change. And while it is easy to be enticed by the marketing tactics of your local discount repair mechanic, there is no guarantee that the services they provide will be what your vehicle needs.
The inner workings of engines are complicated, and unfortunately, some mechanics may not be adequately equipped or skilled to know the ins and outs of your specific engine. You can also run the risk of dealing with slow service, which can be a hassle in itself; this is precisely where our team at Woodhouse Ford of Omaha comes in.
At Woodhouse Ford of Omaha, we offer the service and expertise to ensure that your car continues to run smoothly for thousands of miles to come. We're also one of the only Ford dealerships in Bellevue that offers expedited auto maintenance through our Woodhouse Quick Lane Service, offering you same-day professional maintenance so you never have to skip a beat. At Woodhouse Ford of Omaha, we push the envelope in what you can expect from your local auto dealership.