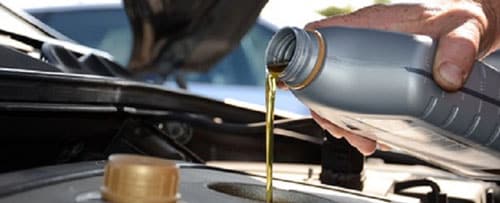 There are few constants in this life: death, taxes, and oil changes. If you want your new or used Ford vehicles to stay in peak condition, then you need to keep up with its routine maintenance. That means making sure you get the oil change your Ford need when it needs it. Today, we want to tell you about why you should always keep a regular oil change schedule, and where you should do it: the Ford service center at Woodhouse Ford of Omaha.
Oil is the lifeblood of any vehicle's engine. It encases the engine components and keeps things cool. But when the oil gets old, it collects impurities, metal shavings, and all sorts of other debris. That makes the oil itself harder for the engine to work with, and it then makes it heat up faster than normal. Heat is the enemy of anything metallic, and overly hot engine parts end up accruing wear and tear faster than healthy ones, which can severely impact the lifespan of your engine.
So when you take your 2019 Ford Escape into our Omaha, NE Ford service center, you get a team of certified Ford professionals working on your vehicle, providing it with a healthy new supply of clean oil, and then checking out the rest of the chassis for any other problems. All the while, you wait in our comfortable customer lounge, where you can watch some TV, take advantage of our free Wi-Fi, and have some free refreshments. If our team finds anything else wrong with your vehicle, you can rest assured that we use only OEM Ford parts to make sure you're getting the right part, straight from the factory.
So come in today to make sure your used or new Ford cars are taken care of by professionals who love your Ford as much as you do. Remember to check our website for deals on service and parts as well!